Amid ongoing protests across the US over police killings of black men, a still image showing one demonstrator being confronted by officers has been labelled "iconic" and praised for encapsulating the Black Lives Matter movement.
More than 100 people were arrested during a demonstration in Baton Rouge, Louisiana on Saturday, according to police. It took place days after 37-year-old Alton Sterling was shot dead in Baton Rouge, while being held down by two white police officers on Tuesday morning.
Shocking videos of the shooting have been widely shared online and the US Justice Department has opened a civil rights investigation into his death.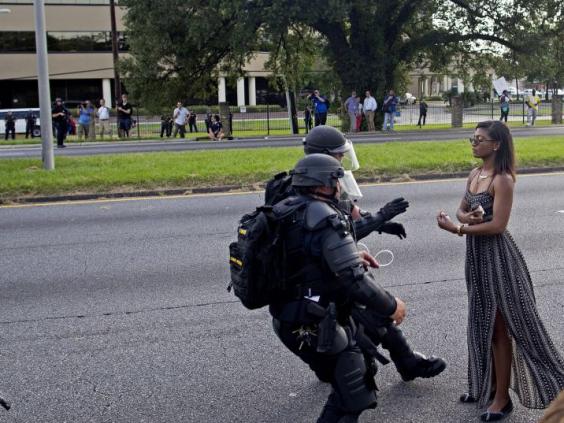 The following day, 32-year-old Philando Castile was shot dead by a police officer during a traffic stop in Minnesota. The aftermath of the shooting was captured on Facebook Live by his fiancé who was present in the car at the time of the incident.
The iconic image was taken as demonstrators, including many supporting the civil rights movement Black Lives Matter,  gathered outside Baton Rouge's police department headquarters on Saturday in protest against the deaths.
Taken by Jonathon Bachman, a New Orleans-based photographer working for Reuters, the image shows a lone woman wearing a thin dress standing stoically in front of two police officers dressed in layers of riot gear, who appear to be hurriedly approaching her.
The image was has been shared repeatedly on social media with many calling "powerful" and "legendary".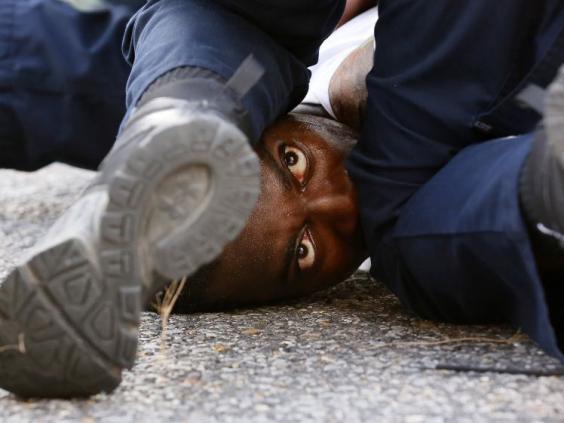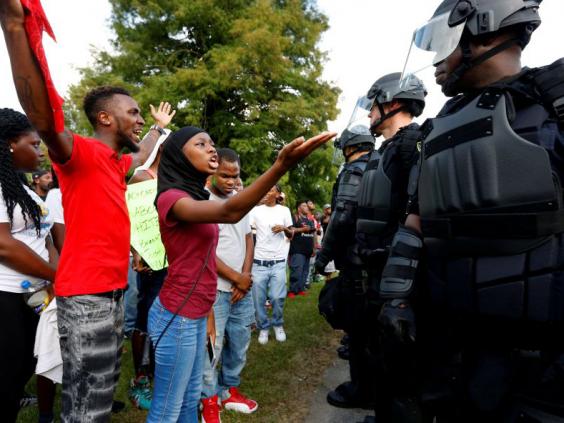 Shaun King, senior justice reporter at the New York Daily News, shared the image on Facebook with the caption: "POWERFUL photo from Baton Rouge". The post has garnered nearly 30,000 likes and one popular comment, liked over 12,500 times, reads: "This is a legendary picture. It will be in history and art books from this time."
The British-Indian novelist Hari Kunzru shared the image overTwitter commending the woman for showing "grace under pressure".
Speaking about the events in the lead up to taking the photo, Mr Bachman told The Atlantic that a group of protestors had formed a blockade on a road running past police headquarters and were asked to move to the pavement by officers dressed in riot gear.
"I could tell that [the woman in the picture] wasn't going to move, and it seemed like she was making her stand," said Mr Bachman. "To me it seemed like: 'You're going to have to come and get me'. And I just thought it seemed like this was a good place to get in position and make an image, just because she was there in her dress and you have two police officers in full riot gear.
"It wasn't very violent. She didn't say anything. She didn't resist, and the police didn't drag her off."
Reuters have said the woman in the picture was later detained, however her she has not been named by police.
Associated Press photographer Max Becherer also photographed the incident from a different angle. The news agency report that the woman was grabbed by officers after refusing to move from the road.
Protests in Baton Rouge continued into Sunday, where protesters faced off with police officers wearing gas masks in the evening.
Media, citing Baton Rouge police, reported that at least 48 people were taken into custody after demonstrators clashed with police following a peaceful march to the state capitol.
In St Paul, Minnesota, 21 officers were injured on Saturday when they were pelted with rocks, bottles, construction material and fireworks.
Three countries have warned their citizens to stay on guard when visiting US cities rocked by the protests.
Source: The Independent UK